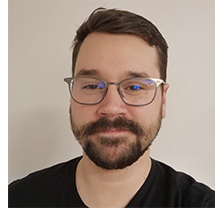 Kyle Fenton is the successful candidate for the Associate Project Manager role in Project Services within Infrastructure Development. Kyle's first day will be Monday, November 29, 2021.
Kyle joins UBC from RJC Engineers where he was a structural engineer, managing and coordinating structural design and construction of multiple projects of varying sizes and scopes. Kyle also has experience working on UBC building projects within his professional career, and within an academic setting during his time as a student at UBC. Kyle holds a UBC Masters of Applied Science in Structural and Earthquake Engineering. 
Kyle's diverse range of professional skills within project management and project design and construction, coupled with his unique insights into different project roles will be a definite asset to the Project Services team.
During his downtime, Kyle volunteers at the Blind Beginnings in New Westminster, enjoys tandem cycling with visually impaired youth in the Lower Mainland, and is involved with supporting blind athletes participating in organized sports.